V-TAC SKU-21672 Led fénycső T8 16,5W 120cm 2250lm 4000K semleges fehér 160° Samsung chip 5 Év garanc
Tax included
7.21 tax excl.
Including €40.00 for ecotax
 in stock
Online prices are only valid for online purchase!
We will send you an offer for the shipping cost!
2021. március 1-től új energiahatékonysági címke: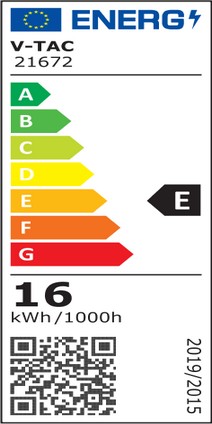 V-TAC SKU-21672 Led fénycső T8 16,5W 120cm 2250lm 4000K semleges fehér 160° Samsung chip 5 Év garancia
• Teljesítmény: 16,5W/m
• Világítási szög: 160°
• Fényerő: 2550 lm/m
• Szín: 4000K semleges fehér
• Méret: 120cm
• IP védettség: IP20
• Garancia: 2 év
• Megfelelőség: CE, RohS
Are you not my partner yet? Do you have any questions?
Please call my export manager or write an email!